Perhaps I shouldn't race consecutive days. Then again it's just cruising and I'm starting to worry about my fitness. But I wanted into the lion's den. Swedes are a tall, big boned people, tech savvy and somewhere in the middle in the European Overweight League. Lots of heavies. Quite a few cruisers too. And this is a race series that naturally attracts Swedes, although as usual it's a mixed bag.
Things didn't look bad at all in the early signups though. Heavies, yes, but not many 100+ kg. Not many sandbaggers. Not even many blatant cruisers, although one could suspect a few of the participants could advance to cat C quite easily. But like yesterday there were lots of last-minute signups.
Much better race organization tonight though. You should always do staggered starts. And when you stagger cats, cat D goes last and not first and not together with cat C. (They got that right tonight.) The race wasn't tagged as having invisible off-cats but I never saw any other cats. Much better that way, provided the starting pens are well filled.
With quite a few late sandbagger signups, the start was hard. The front group got strung out and kept snapping. Early on I tried to bridge a couple of times but I ended up letting the front half go. It was suicide pace for a cruiser and I honestly don't think I could have kept up anyway.
The only problem was that there were still two riders piggybacking at the front that I was sure were no sandbaggers. This is a tricky situation when cruising. You don't want this to happen but it often does. And it can go either way. Most of the time it doesn't work out for them and they have to drop solo, but sometimes it works. If that front group slows down a little later, then the non-sandbaggers can get their 20 min average down, won't get a DQ but are still a minute or so away from you. It's very hard to catch up with them even as a cruiser.
With sandbaggers in the front group, and this is why it mostly fails, the pace won't slow down enough and piggybackers might get DQ'd. But if you're unlucky the front group splits in two halves and the non-sandbaggers can go with group two, get draft, get their averages down and still be a minute away from you, both of your groups moving at about the same speed.
I noticed a little later, though, that the two troublesome riders in the front group had dropped and we were bound to catch them sooner or later. In fact, they were going really slow. I'm not sure. Maybe they were just waiting for a group to join (namely us), but they just so happened to be doing exactly what I would have done in their situation: panic over an over-limits average and few minutes left of the first 20 min block, and hit the brakes.
I wasn't so worried about my own average this time. As opposed to the last… number of races. I got it down to 193W before the race clock struck 00:20:00 (195W is my absolute maximum at 75 kg). And at exactly that moment two riders shot off from my group like cannon balls! But it wasn't some hardcore cruiser tactics. They were just chasing primes. Phew! And soon enough we caught the two riders. I was especially worried about one of them. He looked too strong for cat D and was probably not droppable. He would also beat me easily in a sprint, but that would still somehow be better than having him a minute away up front.
Once the two riders were caught and we were out of the first 20 min block the pace picked up again. Very different from yesterday's race where the second lap of two was really slow. Here we kept more or less the same pace throughout the race.
Some riders couldn't take the upped pace and had to drop. We ended up a group of initially just five, later down to four riders. Me, the two caught guys and another guy, just floating about in total isolation, miles behind the sandbaggers, miles ahead of the legits. And we took turns trying to torture each other, all in vain. One guy, presumably light, pushed all the climbs just to be nasty. One guy, obviously heavy, overtook us and got a little distance that had to be bridged after every damn descent. And it went on like that for the last two laps.
I wouldn't be able to drop the others and certainly wouldn't keep a distance solo to the finish after a breakaway attempt. So I just sat with the group and waited for the sprint. I was guessing one or two of them weren't registered, so I was confident that I would podium at least. But beating all of them in a sprint just wouldn't happen.
The ZP winner (the guy I was the most worried about during the race) smartly revved up his sprint late and passed me. Well, being way stronger than me, it was bound to happen anway.
So this vile cheater had to settle for silver. You won't always win as a cruiser, but you get chances (and podiums) others don't. Like ever. It's easy. Because the system is broken. I could never exist in a results-based categorization. And it's on you to ask Zwift nicely for that. Or maybe not so nicely. Whatever floats your boat, whatever spins your wheels.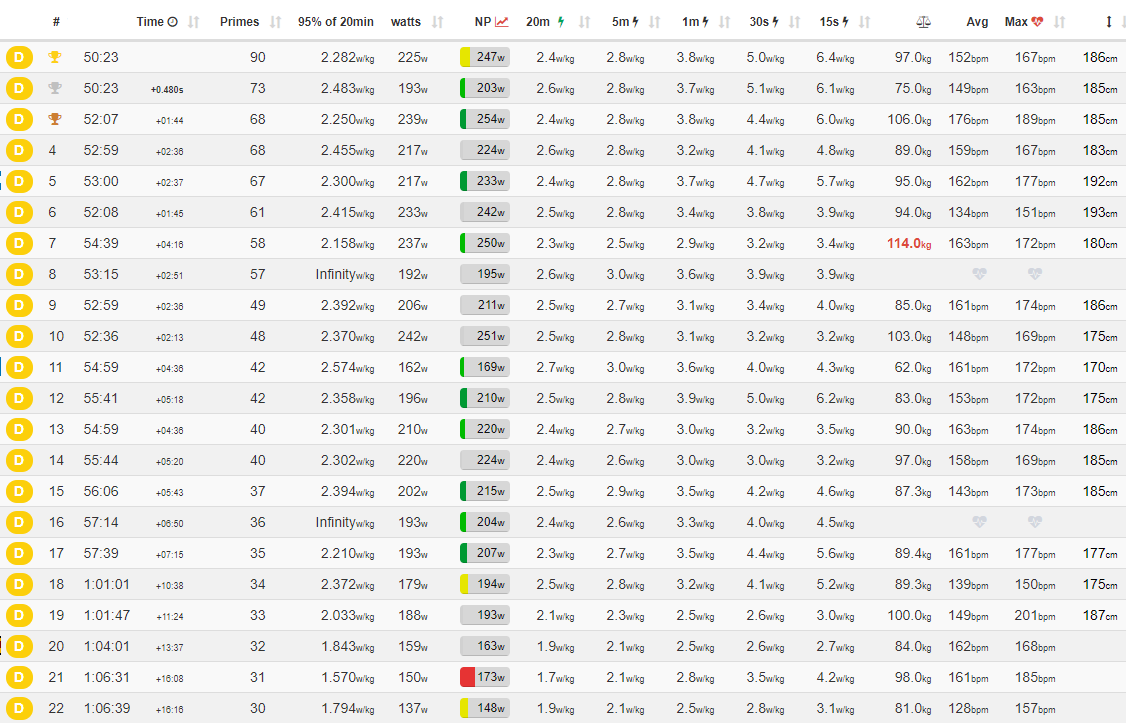 Some 40 riders in the category were removed by ZP, 8 sandbaggers ahead of me and then a whole bunch of unregistered behind me.